Hei Hei Community Carols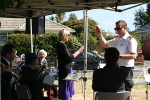 In stark contrast to the sumner event, the Hei Hei carol concert with the local Salvation Army was a warm and sunny event playing to a full house of locals.
The band was bravely led by Salvation Army Captain Eric Turner, in his first ever conducting role - one to tick of his bucket list at least!
 Coming to Hei Hei has become a bit of a tradition for the band over the last three years and we hope to be back next year - if you missed out, make sure to stay in touch! 
Thank you to Sherrie Kendall for taking pictures and to the Salvation Army for inviting us along.
 This event was sponsored by Hei Hei Health Centre.