Success at Regional Championships!
After months of practice and preparation, SSB took the regional championships by storm, securing the Entertainment Cup for our efforts.
Hei Hei Community Carols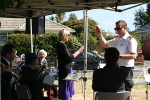 In stark contrast to the sumner event, the Hei Hei carol concert with the local Salvation Army was a warm and sunny event playing to a full house of locals.
The band was bravely led by Salvation Army Captain Eric Turner, in his first ever conducting role - one to tick of his bucket list at least!
Sumner Community Carols
It would be nice to say that the stalwart kiwi spirit kept us warm through the Sumner Community Carols today but sadly, the Southerly wind won and we all froze!  A hardy 80 or so singers enjoyed the carols with the band though and there was a great spirit despite the chill.
Needless to say, we'll be back next year, hoping for a balmy Summer's evening.